Many of us struggle to meet our daily water intake requirements from time to time.
Perhaps we forget to drink, or we don't physically feel like drinking. Maybe we limit drinking to avoid trips to the bathroom. And, our bodies need water for a range of essential functions.
Water helps our bodies to
What is dehydration?
Dehydration is when your body doesn't have enough water to keep it working properly. You get dehydrated when you lose too much fluid from your body and don't replenish it through food and drink.
Some of the signs of dehydration are:
thirst
dry mouth, lips and tongue
headache
passing less urine than usual
dizziness or light-headedness, particularly as you move from sitting to standing.
Use this urine colour chart to assess how hydrated you are. It is important to drink plenty of water every day to stay healthy.
1 to 2: Hydrated
Pale, odourless and plentiful urine is often an indication that you are well hydrated. Keep drinking at the same rate.
3 to 4: Mildly dehydrated
Slightly darker yellow urine can indicate that you need to drink more water. Drink a glass of water now.
5 to 6: Dehydrated
Medium-dark yellow urine is often an indication that you are dehydrated. Drink 2-3 glasses of water now.
7 to 8: Very dehydrated
Darker, strong-smelling urine in small amounts can be a sign of dehydration. Drink a large bottle of water immediately.
Important: The colour on this chart should be only used as a guide and should not replace the advice of a health professional. Speak to your doctor if you are worried of your urine, the amount of water you drink or dehydration.
Source: www.healthdirect.gov.au
Remember that Berocca products contains vitamin B2 (riboflavin) which can make your urine a deeper yellow colour. That's because B vitamins are water-soluble. Anything that your body does not need is passed out in the urine.
It's easy to not get enough water
You'll find it's pretty easy to get dehydrated. The usual dehydration culprits are:
strenuous exercise, especially in hot weather
severe vomiting or diarrhoea
fever
not drinking enough water
You may need to be careful about your water intake if you are taking certain medications, or if you have some medical conditions. You can ask your doctor to guide you.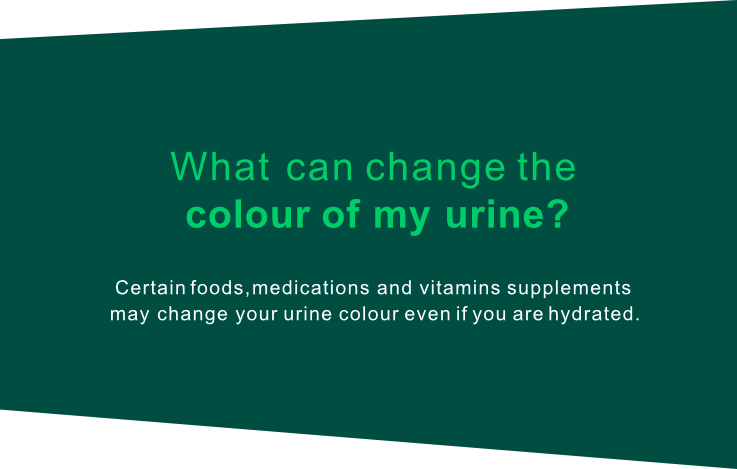 How much water should I drink?
According to the National Academies of Sciences, Engineering, and Medicine, water intake (from all beverages and foods) that meet most people's daily requirements are:
about 15.5 cups of water (125 ounces) daily for men
about 11.5 cups (91 ounces) daily for women
However, you get about 20% of the daily water intake from what you eat while the rest is dependent on drinking water and water-based beverages.
Healthy hydration: upping your daily water intake
Concerned about your daily water intake? You could try:
Carrying a drink bottle with you (a large bottle with a measurement guide can help you keep track)
Tracking your daily water intake.
Drinking half of your recommended consumption by midday.
Find the right
Berocca for You
Shop for your own energy boost now! Berocca can help you improve your concentration so you can stay focused for longer.
Discover
Life Energy
Feeling exhausted? Find out how to get more energy! Learn how to boost your energy for your everyday needs!