How do vitamins support my energy?
B VITAMINS are an essential part of a healthy diet. They help release energy from the food we eat, as well as help our nervous system work properly.
Berocca Performance contains all 8 B vitamins!
Vitamin B1 (Thiamine)
Helps your body change carbohydrates into energy for your body and brain.
The result: More energy and better concentration.
Also found in:
Magnesium is the mineral which also greatly improves the ability for concentration. The foods rich in magnesium include:
Vitamin B2 (Riboflavin)
Breaks down proteins, fats and carbohydrates to maintain your body's energy levels. It allows oxygen to be used properly by the body.
The result:High energy levels and reduced tiredness.
Also found in:
Vitamin B3 (Nicotinamide)
Processes fats in the body and regulates blood sugar levels.
The result:Steady blood sugar levels mean better concentration.
Also found in:
Vitamin B5 (Pantothenic Acid)
Metabolises fats, proteins, and carbohydrates to produce energy. It also processes other vitamins in your body to get their full benefits.
The result:Lower stress levels and more energy.
Also found in: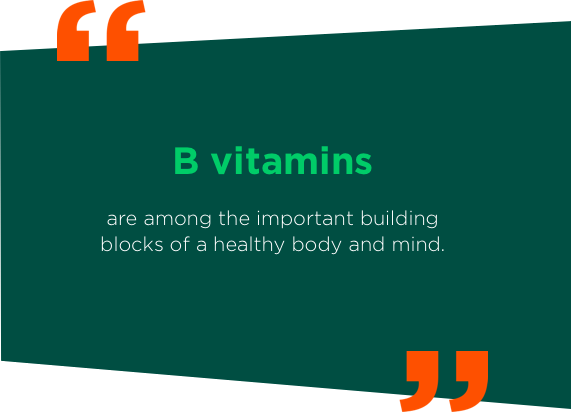 Vitamin B6 (Pyridoxine)
Stores energy from food, and also forms red blood cells to carry oxygen around the body.
The result:Improved mental focus and ability to concentrate.
Also found in:
Vitamin B7 (Biotin or Vitamin H)
Helps your body process fats, carbohydrates and amino acids.
The result:Increased physical energy.
Also found in:
Carrots
Nuts
Wholemeal Bread
Vitamin B9 (Folate or Folic Acid)
Works together with Vitamin B12 to create healthy red blood cells and boost your immune system.
The result:Supported immune system.
Also found in:
Oranges
Strawberries
Spinach
Vitamin B2 (Riboflavin)
Is absorbed by the body to keep your blood and nerve cells functioning and working normally.
The result:Increased focus and supported healthy mood balance.
Also found in:
Other ways to boost your energy:
Limit alcohol
Exercise daily
Stay hydrated
Get enough sleep
Reduce stress
Eat fresh food
Berocca supports energy for mind and body. Always read the label. Phenylketonurics - product contains aspartame (phenylalanine). Contains Sulfites. Follow the directions for use. Vitamin and mineral supplements are not a substitute for a balanced diet.
Find the right
Berocca for You
Shop for your own energy boost now! Berocca can help you improve your concentration so you can stay focused for longer.
Discover
Life Energy
Feeling exhausted? Find out how to get more energy! Learn how to boost your energy for your everyday needs!